Plan Your Wedding With Us
Plan Your Memories curate best wedding planning in Dehradun, starting from your Pre-Wedding Shoot to your Reception, PYM offers a whole range of Catering, DJ, Floral decor, Lighting, Venue Assistance, Tenting & Furniture, Bridal salons, Wedding bands, etc to cover all your functions including Engagement, Mehndi, Sangeet, Cocktail, Haldi, Shaadi, Reception, etc. PYM offers quality yet being economical!!
We also specialize in directing amazing pre-wedding videos and shoots. We will give a Bollywood touch to your story. We will make sure that each and every candid moment is captured at your wedding which you are going to cherish forever. Groove to the beats of the popular songs at your wedding. We will make sure that your relatives are entertained and enjoy the wedding to the fullest. We can also provide you with some best choreographers to plan your sangeet dance so that you keep all the beautiful moments in your memories forever. We can provide you with dancers who are well aware of dance forms like Bollywood, freestyle, salsa, jazz, etc.
If you are interested to call an artist/celebrity to your wedding function, then you are in the right place. Just tell us all your requirements and let us take care of your Bollywood dream. We are here to make your wedding the most memorable day of your life. We will reduce your stress, arrange things according to your budget and we will give attention to every little detail. Our expertise is always ready to support you with many innovative ideas. We can sort out everything for you.
Happiness is special, Happiness is memories, and we plan Happiness, Planyourmemories.in: The Happiness Curators!
For any queries related to your wedding, contact us now at +918826969022 or email us at info@planyourmemories.in. You can also contact via the form below!
A significant and exceptional wedding stage decoration can add extra glitz and glamour to your wedding. Wedding stage decoration holds massive importance as it is the most consecrated place where the bride and groom exchange their wedding vows. Stage decoration is one of the most important aspects of the wedding. Wedding stage decorations are done in various ways according to different religion and themes. Some families or couple prefers traditional decoration while others go with modern decorations and concepts. We at Plan Your Memories are here to provide you with the latest Indian wedding stage decorations. Here is a checklist to make your wedding stage decoration stand out on your wedding day –
Because Wedding is Special
Wedding Stage Decorations
When you look back at the pictures to reminisce one of the most important celebrations of your life-your wedding, majority of your pictures are of the stage: with friends and relatives. It is, after you of course, the center of attention for all your guests. So, whatever you have dreamt or planned for your wedding, overlooking stage decoration can be a huge mistake.
We, at Plan Your Memories, understand that how difficult amidst all the complexities of planning your wedding, the responsibility of stage designing can be. Therefore, we have the best of wedding stage decoration designs that you can select from, that make your work easier and hassle free.
White and Golden Themed Wedding Stage Decoration
Royal stage décor with golden metal structure and green drapes, a lit chandelier with candle glass holders and antique sofa will give luxury feels. The stage decoration looks splendour and classy.
Jhula Wedding Stage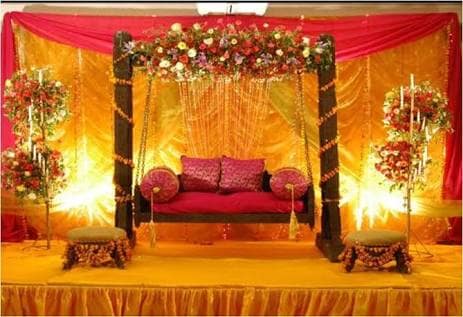 For a daytime wedding, this jhula(swing) set would fit perfectly. Sitting on the stage for hours, while swinging with your spouse is nothing less than a dream. The lavish ottomans on either side welcome your friends and family to sit with you and interact too. The red and orange warm tones of the stage decoration with the marigolds all around the swing and on stage give it a charming spring feel.
Peach Wedding Stage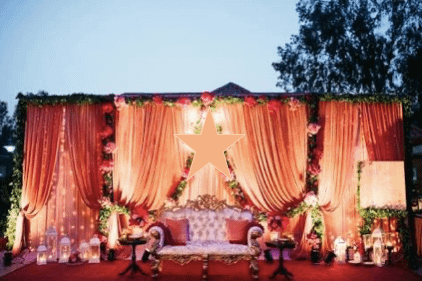 Set beside a setting sunset, this peach stage design is what you've been looking for an evening wedding or reception. The stage, here, is decorated with beautiful lanterns and flowers which will be the center piece at your wedding. The comfortable and long seating gives you enough space to sit, with side tables where you can keep your gifts. We are sure you noticed the canvas behind; your friends and family can add their best wishes for you on it.
Checkered Wedding Stage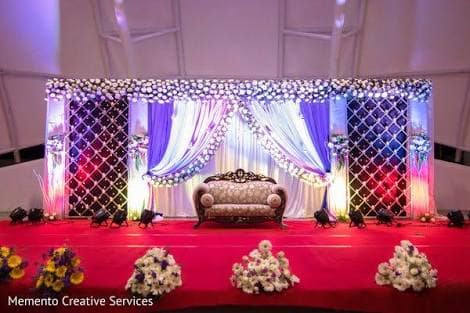 Does a huge checkered and lit-up background feel more like your taste? The set-up has a huge red-carpeted area in front of the well- cushioned seating that ads to the grandeur of your wedding. The white roses bordering all of the background and the flowers arranged at the edge of the stage would help you feel enthusiastic even after the rituals. The colorful lighting of the stage will surely result into beautiful pictures with your spouse and keep the spirits up the whole night.
Spiritual Wedding Stage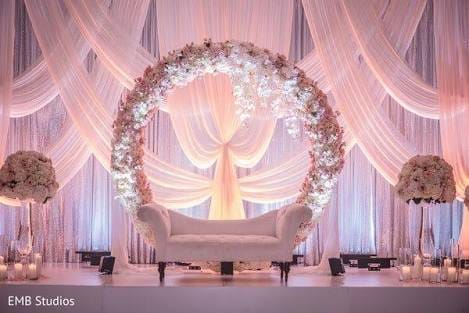 This blush tinted stage with the exquisite cloth set-up on the background and the arch embedded with white and pink flowers behind the seating is the perfect choice for an elegant wedding. The entire stage is covered with scented candles giving off a spiritual aura to the auspicious day. This is the most-fitted stage set-up if you too find beauty in simplicity.
Royal Wedding Stage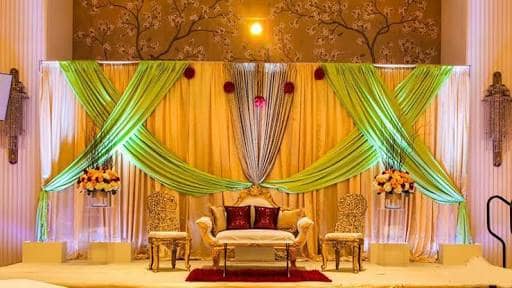 This green, white and golden stage set-up is the perfect blend of classic and contemporary. The practical yet beautifully designed seating will allow you to sit comfortably with your spouse as well as your close ones and still look like royalty. The green, white and silver curtain decoration at the back would draw anyone's attention from anywhere else to you.
Royal Arch Wedding Stage
People often wish for a wedding as royal as this one. The grand arch, pillars and curtains would make your wedding stage look nothing less than a palace. Even the yellow flower arrangements all around the stage look like royal gardens.
Red Themed Wedding Stage
This beautiful stage decoration with red blooming flowers is going to steal all the charm. The golden sofa with red cushions is perfectly matching with the stage décor and chandelier with floral ceilings. This stage decor going to take your heart away.
Lavender and Violet Themed Wedding Stage
This lavender and violet themed mandap-style wedding stage looks even more serene in real life. The impressive flower arrangement on all the pillars and the roof of the mandap make you feel like you're getting married in a garden, while the elegant white chandelier hanging from it gives the look of a ballroom. The faux-trees on either side of stage will definitely be popular among your relatives, trying to take pictures with you and your spouse.
Happiness is Special, Happiness is Memories
Flower Wedding Stage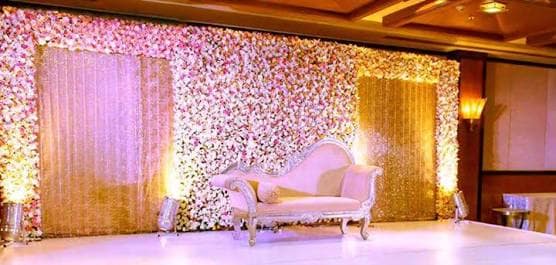 A simple and elegant stage decoration with blooming flowers in the background with a golden sofa to glam up the stage for your big day! The minimal with the best is perfect for your wedding day.
Framed Wedding Stage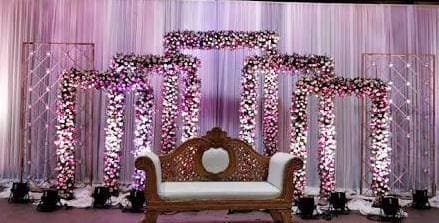 Flowers are adored by everyone, but flower frames are loved even more. The purple, pink and white arrangement of the flowers in five grand frames behind the royal seating will be the talk amongst your guests for days.
Marigold Wedding Stage

Marigold is considered the most holy and auspicious flower in many cultures across India and this stage design aptly merges tradition with art. The huge marigold laden circles behind the orange seating make this a favorite of many. Two huge marigold covered trees also remind you of old-royal weddings.
Golden Themed Wedding Stage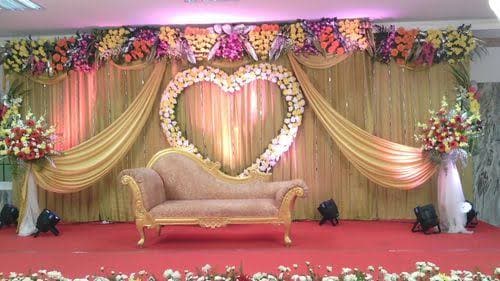 Maybe a golden themed wedding stage surrounded by fascinating flower arrangements is what you are looking for? The gigantic flower-heart behind the bride and groom's seating facilitate lovely pictures of the couple, a sign of the love-bond that they will be sharing after this day.
Heart Themed Wedding Stage
A wedding is the merging of two hearts as one, and that's exactly what this stage set-up portrays. White, blue and purple orchids embellishing the hearts will fill everyone's hearts with love and joy. With fairy lights lighting up all around the seating, this wedding stage will make you feel magical.
Mehndi/Haldi Wedding Stage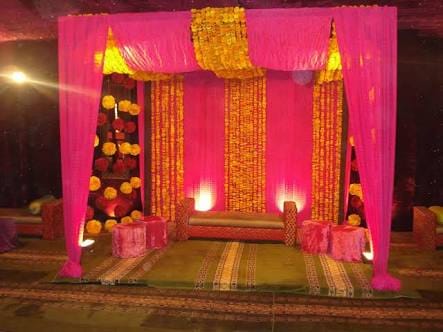 For an outdoor wedding ceremony, this pink curtain and marigold flower stage design is just the answer. A practical and open seating arrangement can also be used for other wedding festivities like mehndi, haldi or sangeet.
White & Red Roses Themed Wedding Stage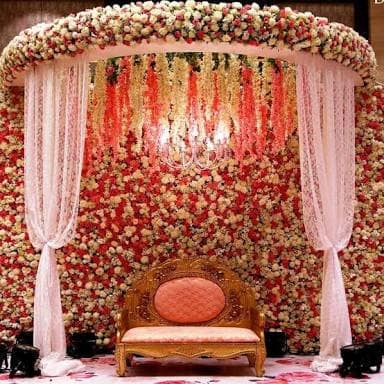 A stage decoration with white and red flowers with a tint of white and pink drapes. This stage decor with the sofa and the chandelier is a charmer. The stage looks minimal yet dreamy.
The Dome Shaped Stage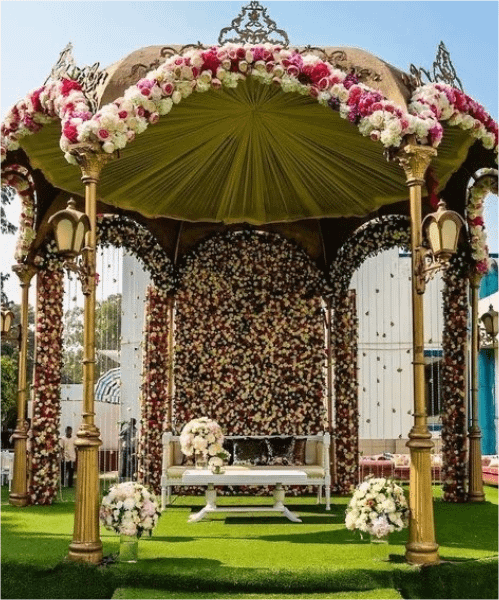 A dome-shaped stage with lots of green and antique style of lamps, white and pink roses with a white sofa and perfectly glitter cushions is a unique style of decoration for your big day!
Sea-green and Golden Themed Wedding Stage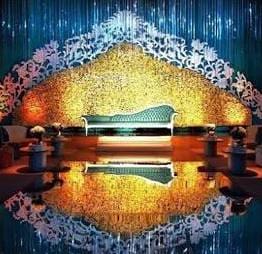 A heavenly décor idea with shimmer and white sofa is irrefutable. The stage backdrop with red flowers is subtle and adds royalty.
Wedding Stage Decoration

There are many other designs, set-ups and ideas that Plan Your Memories has for your wedding day, that we curate in the most convenient way; so that you could also have the Wedding Stage Decoration of your Dreams.

For any queries related to your wedding, contact us now at +918826969022 or email us at info@planyourmemories.in. You can also contact via the form below!
And we curate happiness!!
PYM
The Happiness Curators